Gardening Club
Let's plant, learn and grow together!
This Friday (10th June, 2016), children from Reception up to Year 6 enjoyed their first gardening session. They were improving the appearance of our school while learning from Paul's expert knowledge, skills and experiences which he has shared with us so far.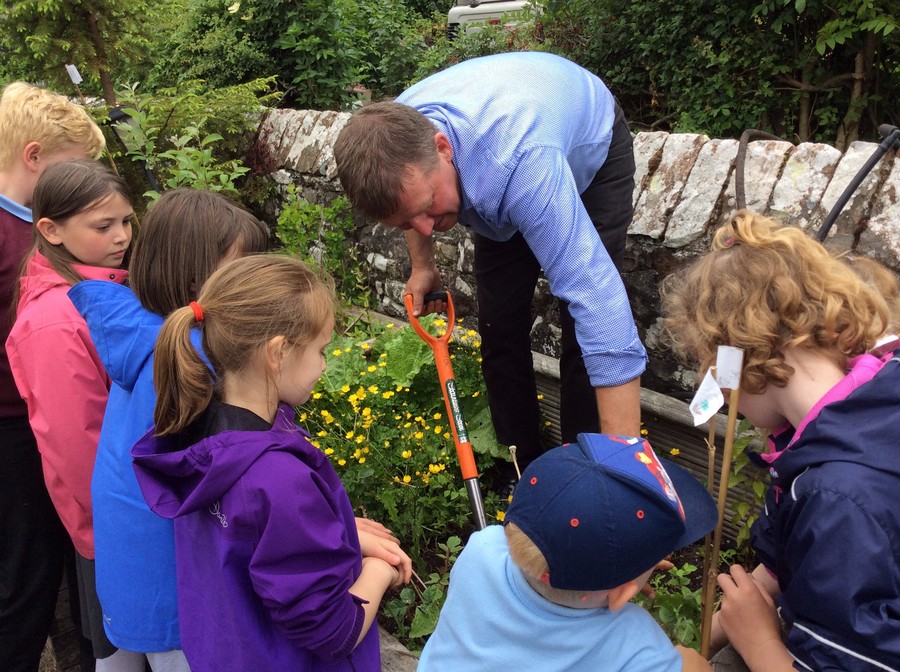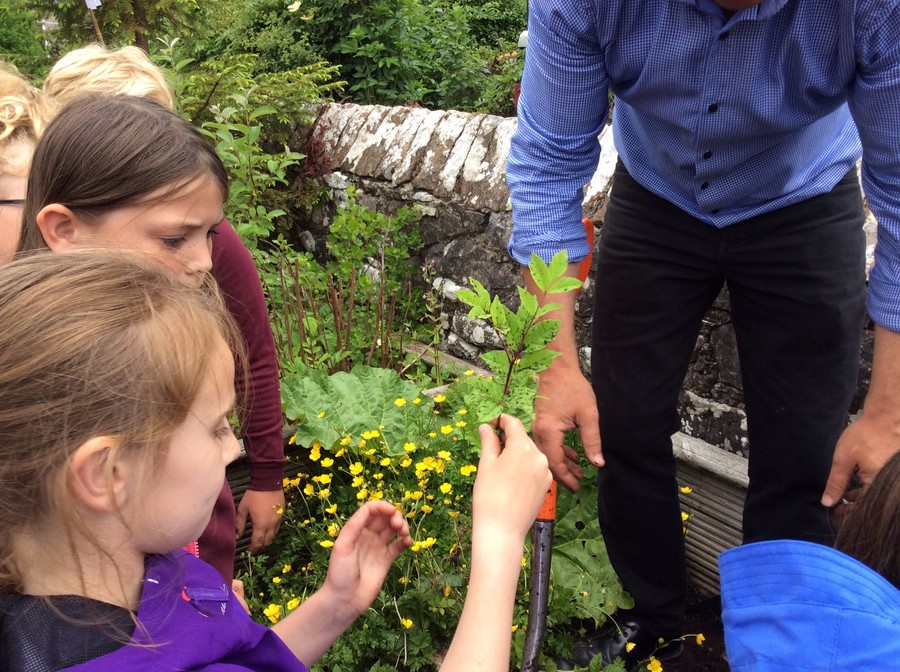 Gardening Club - Session 2
I would like to say a huge thank you to Mrs Little and Mrs Gardiner for supporting our children, and school, by taking part in our Gardening Club on Friday. Thank you also to William Gardiner and Jack Little for supporting their siblings, who attend the club, on Friday. You all worked through the pouring rain, digging, weeding and planting, and have helped us to begin the school grounds' 'new look'. You really did make a difference. It is great to see parents so deeply involved in our children's education.
Miss Maier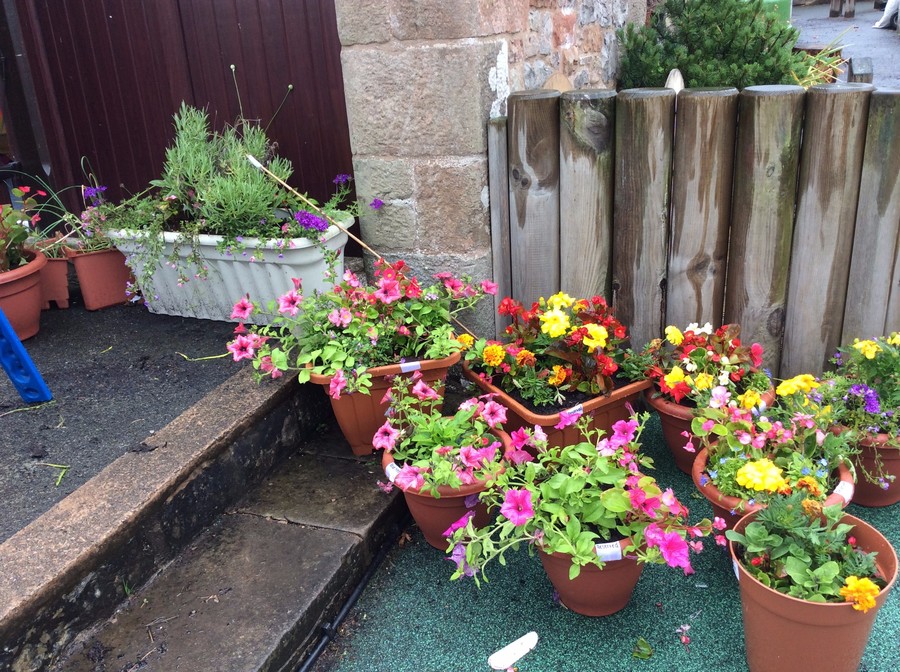 Harvest Time (below)
Thank you to all our parent, family and governor helpers over the summer with watering and caring for our plants, we were able to harvest our produce in September. It felt so rewarding to harvest our home-grown vegetables and herbs. They were delicious too!
Trip to Newton Rigg College
As part of our gardening adventures as well as our topic of 'Harvest' in R.E., we visited Newton Rigg College where we had a grand, informative tour of the farm grounds and even had a go at harvesting vegetables from a ginormous vegetable patch. It was phenomenal!
Paul Flynn, a LECTURER in AGRICULTURE at Newton Rigg College in Penrith, has kindly agreed to help to run the Gardening After School Club. As an expert in the field, Paul has kindly shared much of his knowledge already in order to shape the sessions so that they ENTHUSE our children, give them basic KNOWLEDGE and SKILLS in planting and looking after plants while also giving them a breadth of EXPERIENCES. We already have many plans but Paul is always keen to take on board the CHILDREN'S IDEAS. He has kindly added to our selection of gardening equipment, which the children have begun to explore, and has been particularly helpful when bringing along the plants suitable for our level of skill and school planters.
It must be mentioned how grateful the school is for all of Paul's support - we are VERY LUCKY to have this opportunity. Thank you, Paul.
Fundraising for our School Garden
We soon noticed how expensive it can be to have our very own garden. Therefore, we decided to plant up some flower arrangements and have a plant sale to raise money for our future adventures with our garden. We are extremely fortunate to have been donated an abundance of beautiful flowers, good quality pots and soil by a variety of different companies and businesses, without whom we couldn't have achieved this. A HUGE thank you goes to:
B&Q (Carlisle)
Tarn Road Nursery (Brampton)
Douglas Nursery (towards Wigton)
Mike Capstick Nursery (Dalston)
We would also like to say a GREAT BIG thank you to all those generous people who bought some of our flower arrangements and secured the future improvement of our school grounds.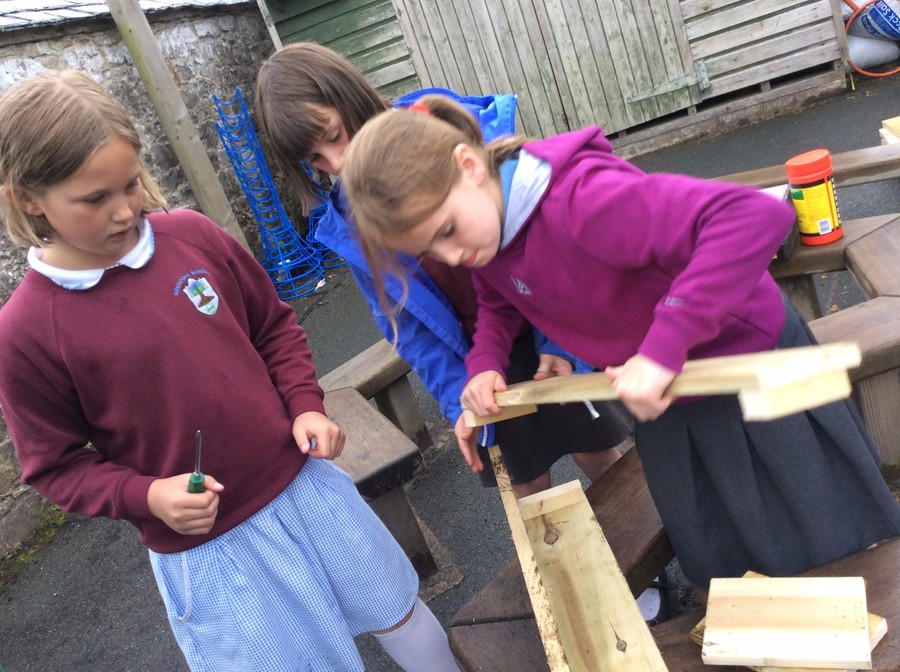 Restocking our garden (above, below)
Having harvested, we knew we would need to restock the garden for some winter vegetables. As an extra challenge, we decided to make our own planters to grow some winter lettuce in.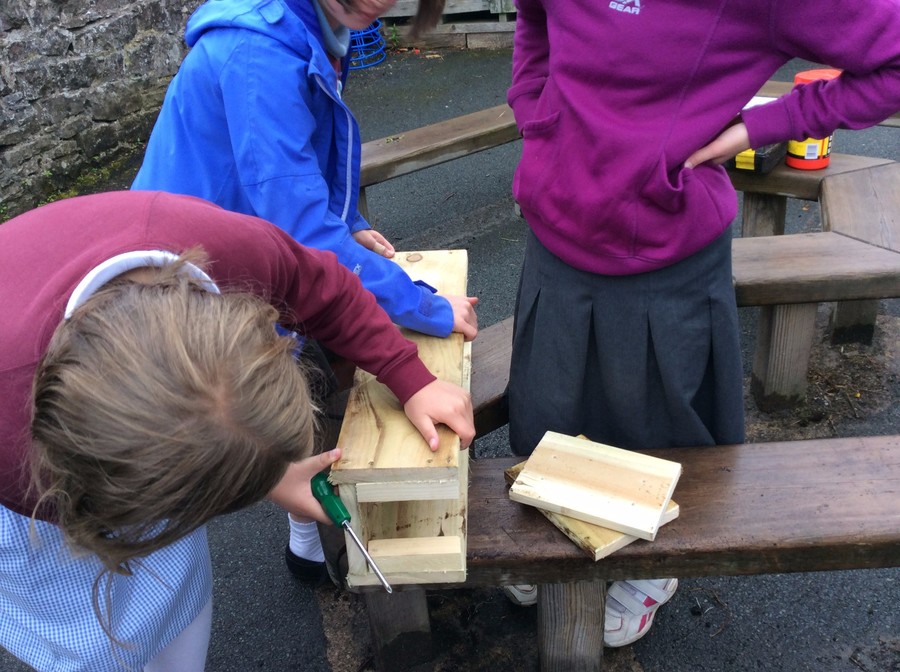 Did you think wood-work would be the focus of a Gardening Club session?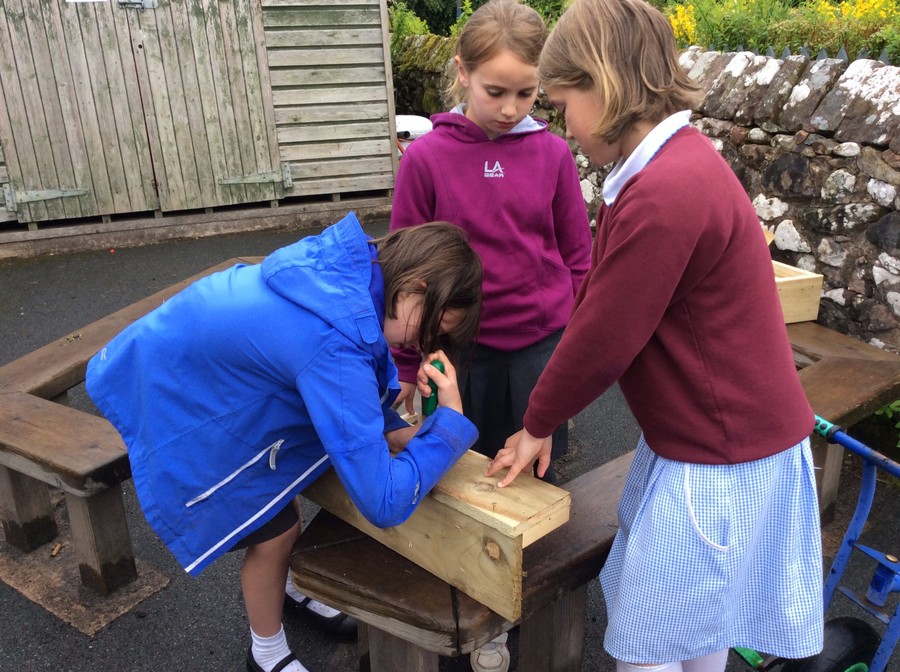 Last but not least, we can't possibly show our appreciation enough to Paul, a lecturer from Newton Rigg College who has helped us to set up, run and continue our Gardening Club. It has been a pleasure to learn from Paul and be infected by the enthusiasm with which he approaches the task of looking after nature.
Thank you so much, Paul!