Click on the image below to take you to the children's interviews on CFM radio news.
The Phantom Horses
Through researching old documents, we discovered the legend of 'The Phantom Horses'. Having re-enacted it and visited the site, we wrote our own versions.
We hope you enjoy them.
St. Andrew's Church Visit
We recently visited St. Andrew's church in Greystoke as part of our heritage topic. We looked closely at the features of the building both inside and out! Children in EYFS enjoyed making rubbings of the walls, floors and metal work. Back at school KS1 children worked in pairs to write some poems about the church - read them below (click the image to enlarge)
Greystoke Pool Nonegon Poem
Beside Church Road sleeps Greystoke Pool-the one and only!
Exhilerated children dive into the two metre deep pool,
The immaculate waters of Greystoke remain clean,
Aqua blue blankets protect the pool water,
Fun for everyone- deck chairs assembled,
Café sells sour remarkable sweets,
Black tarmac colours feet,
Everyone is welcome!
Run wild,
Swim.
Amy Year 6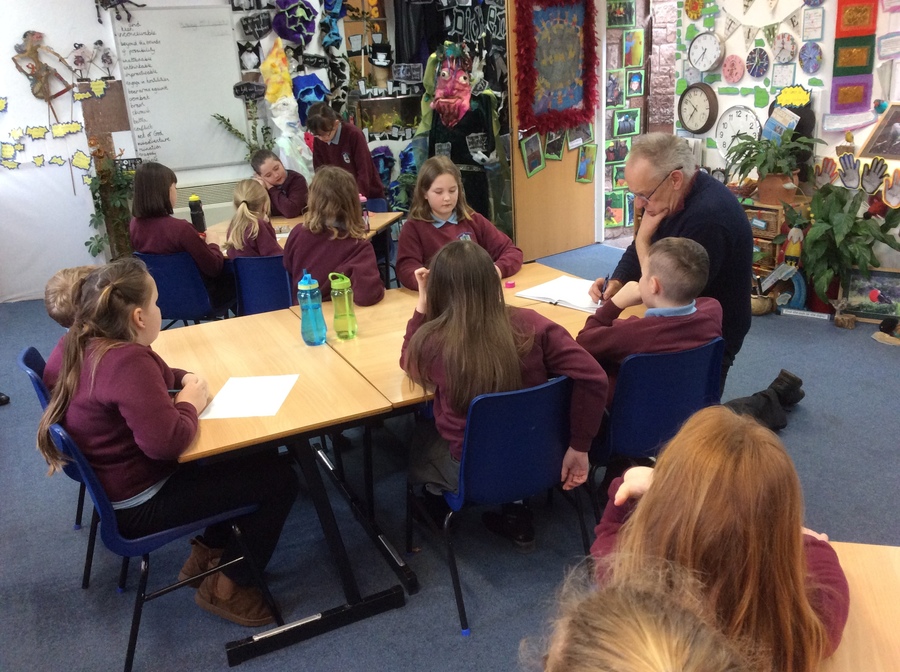 On Monday 12th March, we began to work with an author- David- on beginning to compile our Heritage trail booklet. We discussed ideas and are looking forward to compiling them.
Visiting Upfront Gallery for puppet making inspiration.
We all enjoyed- and learned such a lot-at Upfront Gallery. John Parkinson showed us some of his fantastic puppets and we saw how the theatre brings the stories and characters to life. We are really looking forward to making our own puppet theatre and puppets! April 2018
We hope you enjoy listening to our story of,
'"The Devil Rides Again".
This will be one of two stories which we will bring to life through puppetry.
We hope you enjoy our other local legend:
The White Lady.